IP Enabled Monitoring
Highlights
Atec Remote Monitoring Products
AT100 Remote Monitoring Hub
At least one AT100 is required per system. This unit receives wireless sensor data from up to 30 different AT200 sensors and will serve them up on a webpage. Alert emails can be sent based on data level presets. You can also transmit via XML data to a server.
Senses Temperature -20F - 120F
Network connection is 10baseT RJ45
AT200-T Temperature Sensor
AT200-H Humidity Sensor
Senses Humidity 5% - 95% non-condensing
AT200-C Contact Closure Sensor
Senses Dry Contact Closure
AT200-AD Analog Voltage Sensor
Senses Analog Voltage 0-30VDC
$99
$89
$89
$89
$89
AT200-RT Remote Probe
$12
External 3' probe for AT-200T
AT200-L Light Sensor
Senses Ambient Light Levels
$89
AT300-T Quick Start Kit
Includes AT100 + AT200-T + AT200-RT
$188
Limitation of Liability. In no event shall AUTOMATIONtec LLC be liable for special, direct, indirect, incidental or consequential damages, including but not limited to loss of profit or opportunity, or similar damages which may arise in connection with any of Automation Tec's products. Buyer's sole and exclusive remedy shall in no event exceed the repair, replacement or cost of the specific product purchased from Automation Tec. An internet connection is required for remote monitoring and messaging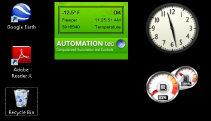 Download Atec Gadget for your Desktop!